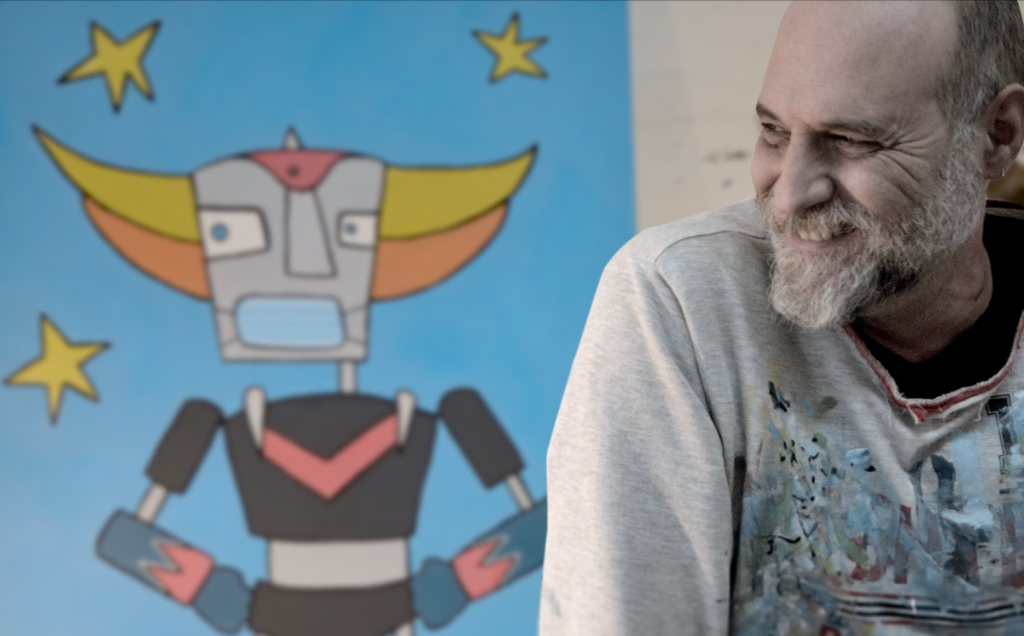 I've always had a passion for drawing, I started painting when I was very young. I attended "Scuola de libro" in Urbino, cartoon section, then the Bologna Academy of Fine Arts, painting section.
I loved abstract and informal art, but since 2000 something has changed. I felt the need to transform my work and saw the possibility of bringing the experience of cartoon to canvas.
For over twenty years I have been engaged in graphic and pictorial research that allows me to tackle ironic, apparently light themes.
My desire is to capture the viewer's attention with bright colors and a simple design for a captivating first impact: like a virus, or a Trojan horse. Who observes my work patiently will discover something else, a smile will take him beyond the first appearance.
I believe that irony is an antidote to suffering and the solution to adequately resize the world around us.
Francesco Diotallevi lives and works in Pesaro and Parma – Italy. Ever since young, he developed a vivid interest for drawing: he loved the Bonvicini and Jacovitti's figures, that inspired him to to create his own stories to escape reality, through fantasy and drawing. He studied at Urbino's Cartoon School, deepening his knowledge of drawing techniques, graphics and animation cartoon, key elements of his creative research in the years to come. In 1995 he graduated at Fine Arts Academy in Bologna, under the guide of Concetto Pozzati. During this period of studies he started to stylistically combine the drawing skills attained in the early Urbino's years with painting. Since 2000, he abandoned his early years' abstract and informal painting to begin painting ironic story-boards on canvas, inspired by fairy tales, literature or everyday life facts. "Each canvas is just a part of the story, a single shot, a frame from a movie or a page ripped-off from a book. I wish to let those looking at it the pleasure to conceive their own beginning and end"